Election years are always interesting in their coverage of candidates - and since I'm something of both a news and politics junkie, it's tailor-made news heaven. This year proves to be an especially interesting one with Hilary Clinton's run for the White House, not necessarily because of her politics or even that she's a Clinton, but because she's a woman, and it really lets us see the double standard the media, and perhaps the public, have towards men and women.
As is
being reported in quite a lot of places
, Clinton won New Hampshire because she emoted - something, her lack of emotion, she has been criticized heavily for in the past. Now this in and of itself is an interesting thing; when is the last time you can remember a male presidential candidate being skewered for his lack of emotions? Most male candidates don't get choked up, don't cry on camera, keep very firmly in control of their emotions - in fact, to this day many people think that
Howard Dean's "famous Iowa scream"
is what ultimately cost him the Democratic nomination. A showing of too much raw, uncontrolled emotion.
A negative thing in a man.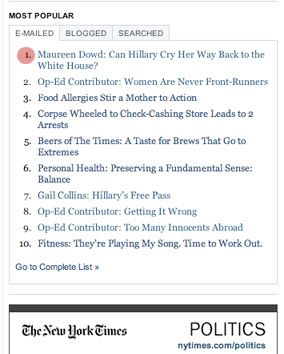 But in a woman, not showing emotions seems to be a negative trait. We, as a matter of fact, have some rather unflattering terms for women who're viewed as carefully in control of their emotions, from frigid or ice queen and on.
Yet on the flip side, although apparently her teary exchange with New Hampshire voters did Clinton a world of good, her campaign staff was nervous about how it would play. How would people perceive a woman teary and tired, talking about how exhausting campaigning is? The concern was that it would badly undercut her messages of being experienced, that she is strong, that she can handle the demands of the job.
Do men on the campaign trail face similar damned if you do, damned if you don'ts? At the moment, I'm hard pressed to come up with an example that fits, but that also could be because I'm seeing this very clear example for a woman being damned no matter what she does in front of me. What about you - do you think male politicians face these same issues? Or are we really seeing a nasty side of ourselves that we thought that, as a society, we had passed beyond, where in the same situation women are judged against standards and qualities that men are not?
Perhaps most to the point, I think we have to ask ourselves a simple question: if Obama or Edwards had become teary-eyed in front of voters, talking about the same concerns, would
Maureen Dowd of the New York Times have written an article
entitled "Can Obama/Edwards Cry His Way To the White House"?
-Kelly