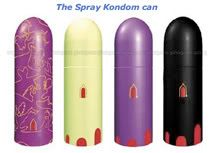 Do you ever find yourself watching a television show, or movie, and having to hit pause to Google something you saw, because you just can't quite believe it? In this particular instance, I'm catching up on episodes of CSI: NY, and in the first episode of season four, they begin talking about (and demonstrating) spray on condoms.
"
No way!
" I thought, sure that this was something I could laugh off as improbable. Liquid latex in a spray can, spray application, 5 second drying time? Pause, Firefox, Google. See! Complete fict- what?
Real? Oh. ...oh?
It would seem I slept through this particular bit of
2006 science innovation
.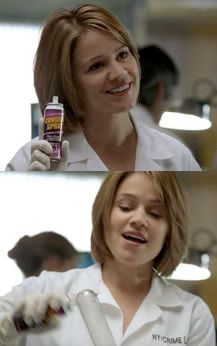 In reality, it's not necessarily what CSI: NY showed; it's more of a slide on device that coats the penis evenly with
spray nozzles
(most news coverage refers to it as "car wash like", a description I'm just going to leave alone) that a latex condom version of hairspray, and marketing is targeted towards a custom fit that will help prevent slippage and breaking.
You can watch a video clip showing the prototype, how the latex dries, and a short interview
at this link
, but please be aware that the link is not necessarily safe for work, and contains references to other videos and stories of sexual activity that certainly runs the risk of offending.
Of course, assuming this makes it to market (some time in 2008, according to the manufacturing company), you've got to wonder if anyone would really use it. And is it actually a better "fit"? Is the lack of reservoir tip going to create problems? How is it different from liquid latex? What safety mechanisms are built in to ensure that it's an even coat, and not patchy, thin, or missing a spot here and there? Is it cost effective?
I can certainly see having a can of aerosolized liquid latex being
fun
- I'm the type of person who would promptly run around and try coating everything I could with it, just to see what would happen (especially if it could at all be used in practical jokes, like covering someone's sandwich unnoticed), but I'm having a hard time seeing its actual benefit for protection during sexual activity. It seems like it would be a type of bragging ("oh, I can't wear
regular
condom sizes...") or a gadget-y purpose of (in)conspicuous consumption.
Thoughts?
-Kelly